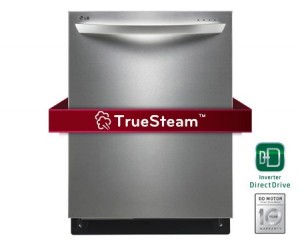 LG TrueSteam LDF807ST is one of the units included in LG's TrueSteam line of dishwashers. It is fully integrated with the latest technology of TrueSteam Generator and the EasyRack Plus system. These are just few of the many reasons why this LG TrueSteam unit is an excellent choice. The TrueSteam feature avoids the need to pre-wash your dishes prior to loading in to the dishwasher. The steam-focused was cycles will eliminate even the toughest baked-on leftovers on your pots and pans. Heavily soiled utensils and kitchenware will still come out clean after the cycle.
LG TrueSteam offers the quietest washing among other dishwasher units. It inly produces up to 45dB of sound which can be the lowest rank among all dishwasher brands and units. LG has made it a point to design the LG TrueSteam to produce less noise by using fewer moving parts. Additionally, the unit offers 14 place settings each load – a considerably large load of dishes already. Most dishwashers are built with two racks but LD TrueSteam has another small rack on top which is more appropriate to use if you are to wash only a small utensils and fewer kitchenware. According to the energy guide, the unit only uses $27 of energy per year.
This LG TrueSteam unit has seven different wash cycles – steam power, normal, quick and dry, quick and rinse, rinse only, steam dual and steam delicate. It also offers six additional options – extra dry, rinse only, extra rinse, rinse, and sanitary. These features only give the optimal results for any type of dishwashing types.
Though this unit offers a lot of features, it lacks with a heated dry option. The unit is built, however, with a hybrid drying system which is said to be more energy efficient. Although both systems can dry out water from the dishes and kitchenware, the heated dry system is a much later technology.
The appearance of the LG TrueSteam is very polished and the smooth appeal is achieved by its uniform pure stainless steel covering the whole of the unit. The controls are all on top of the dishwasher door. They become hidden when the door is closed which make it look cleaner and plain. All the controls are touch-sensitive and they are very easy to use. Even those who are not familiar with digital stuff can use it with ease.
The most impressive feature of this LG TrueSteam is its warranty. Most dishwashers units have one year warranty for parts but this unit is covered for two years. Aside from that, the unit is also covered with a one-year warranty on labor in case malfunction arises and a five-year warranty for racks and other faulty electronics. The tub and door liner have a lifetime warranty.
All in all, the LG TrueSteam is a great option if you are looking for a dishwasher with tons of features. Its TrueSteam technology avoids any hassle in your part because you do not need to manually pre-wash your dishes. With its low sound level, your TV viewing and chatting with friends will not be disturbed.