15 Victorian Era Photos: Post Mortem Photography Will Show How Creepy the Old Times Were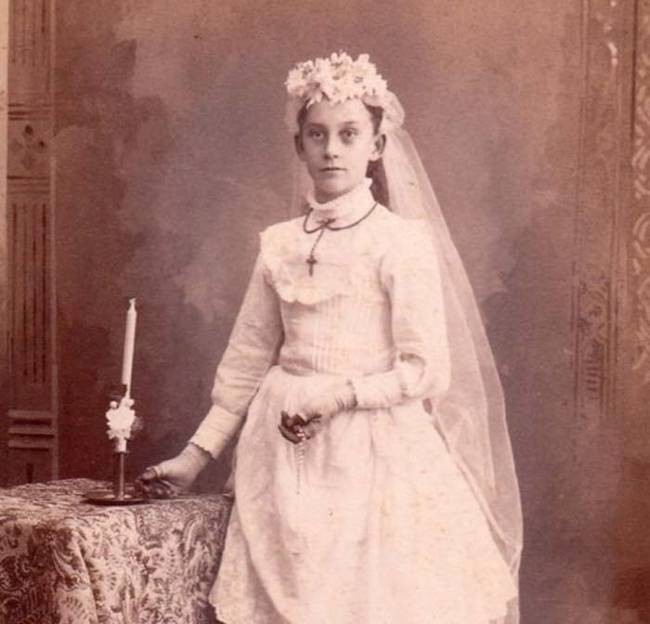 In an era where every single moment is documented and shared through social media, you might not be surprised people have grown quite vain with all that posting and hash tagging. We're all familiar with the common #WokeUpLikeThis, #ATM, #FoodPorn, #OOTD, #Me, #FollowMe, #Selfie, and #Groufie pictures. Whether you're on Instagram, Facebook or Twitter, chances are you'd get to see these eight hashtags in a day to day basis. But we're pretty solid that you would not find hashtags like #PostMortem or #MeWithTheDead pictures as often as you would see those hashtags above. Chances are, you have not even heard about Victorian Era Post Mortem Photography.
But if you were from the Victorian Era, well, it's quite a big deal to pose with the dead to honor and remember them for the rest of your days. #Creepy, right? So before anything else, you better psych yourself up to see common post mortem photography and how they see it as a thing they needed to do in their time.
Daguerreotypes – We will always remember.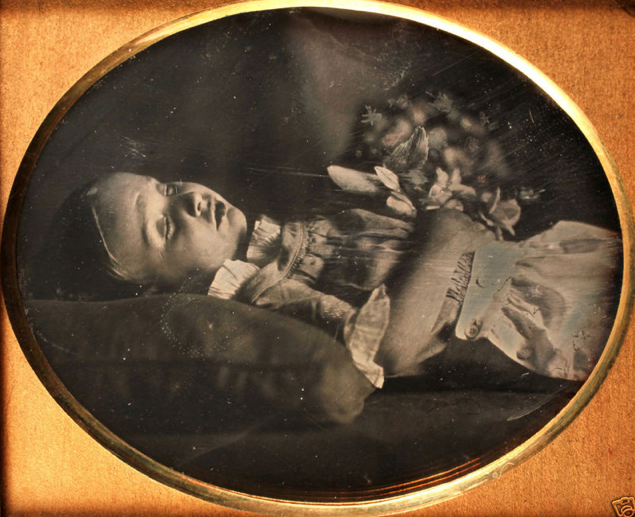 And so when daguerreotypes became a thing, documenting about important occasions became such an important matter especially to the rich. Among the important events of the Victorian people are the death of their loved ones. But they do have an awfully weird idea of making memento, because most of the post mortem photos don't really make their subjects look dead at all.
Everyone looks quite alive and normal.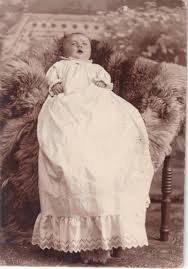 Photographers find that it was a huge deal to make the subjects look alive and normal as possible so it's very typical to find photos of dead people with their eyes wide open making their last pose.
They can even strike a pose with their favorite things…like DOLLS!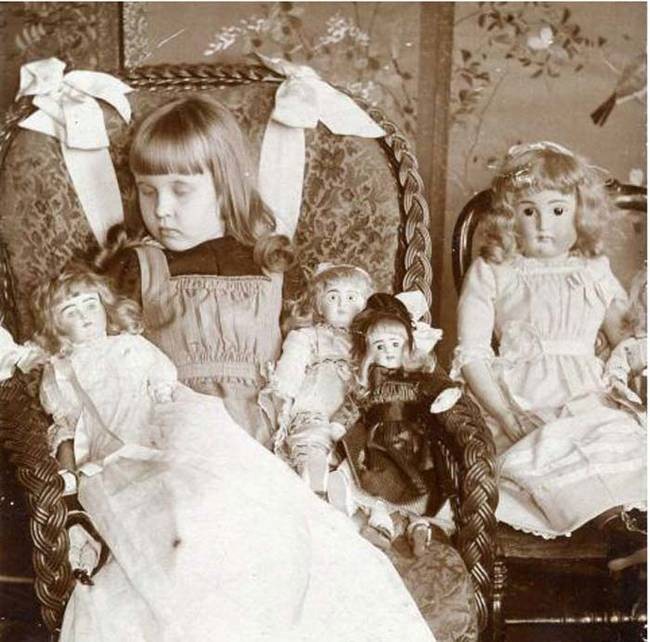 Observe how this picture alone can make your hair stand up. This little girl is amongst her dolls and we all know how dolls alone make quite the horrific back drop, but of course, they don't seem to be affected by all that.
Babies sit on the laps to prop them up like a normal baby would look like.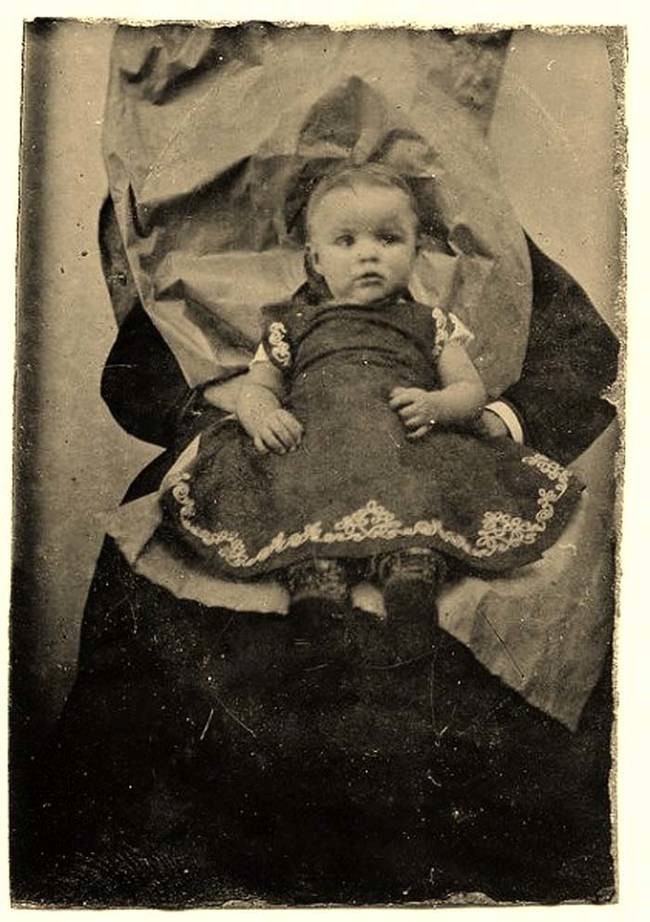 Now don't you dare say you don't notice the arm in there all covered with some cloth or some sort just to make the baby sit up straight and say CHEESE!
They even use specialized propping tools!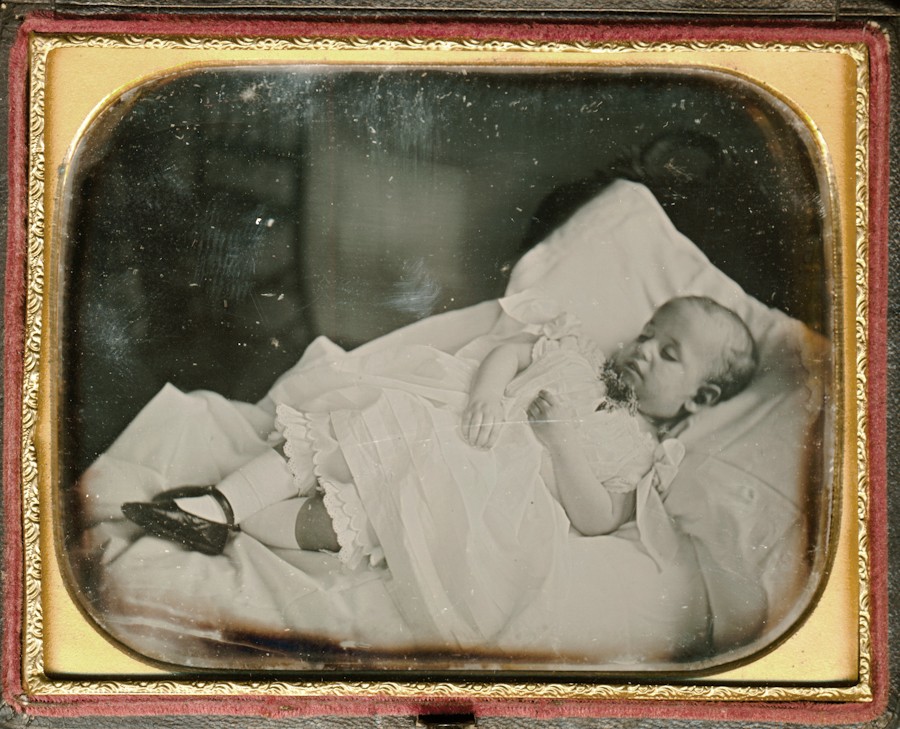 See how this kind of specialized tool makes him look like being propped up, even when his eyes look like a scene from the exorcist? A whole lot of pictures are taken before their burial and you can see that their eyes are closed and they look quite dead but their relatives don't seem to mind. You wouldn't even suspect that the subject dead unless you're told (which is why we're telling you right now!) and you have a quick way to recognize wrong bits in a picture.
Perhaps among the pictures that the cyberspace has seen, this is among the less creepy.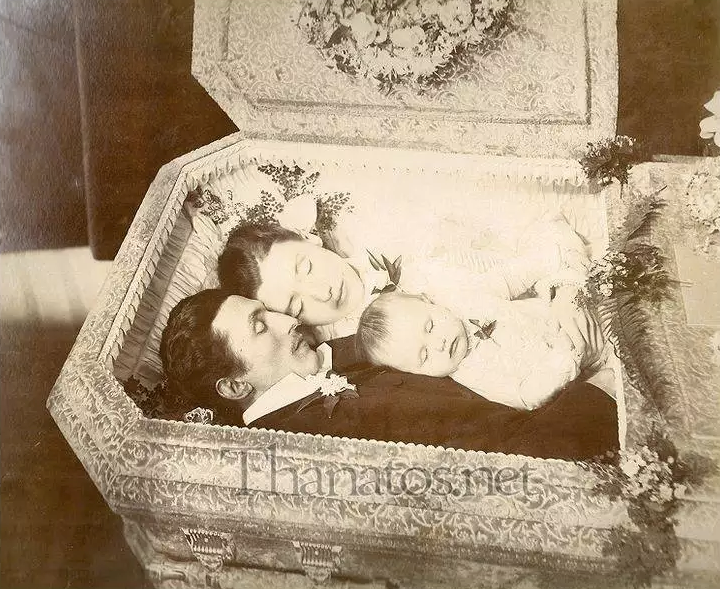 This shows of a picture of a family who died in the hands of the mother. It was said to be an accident, so might as well give the family a heartwarming reunion in the end right? Would you not do the same thing for them?
Holding up someone's head is not really that creepy and this picture says it all.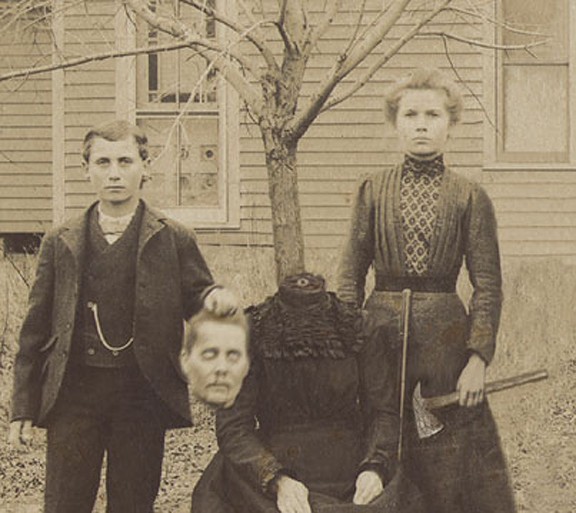 There's nothing really wrong with honoring the beheaded right? See how normal it looks likes and to top it all, there's nothing wrong with bragging this head like a winner's trophy, that's the way to do it.
No, she's not dead; she's just resting…in peace!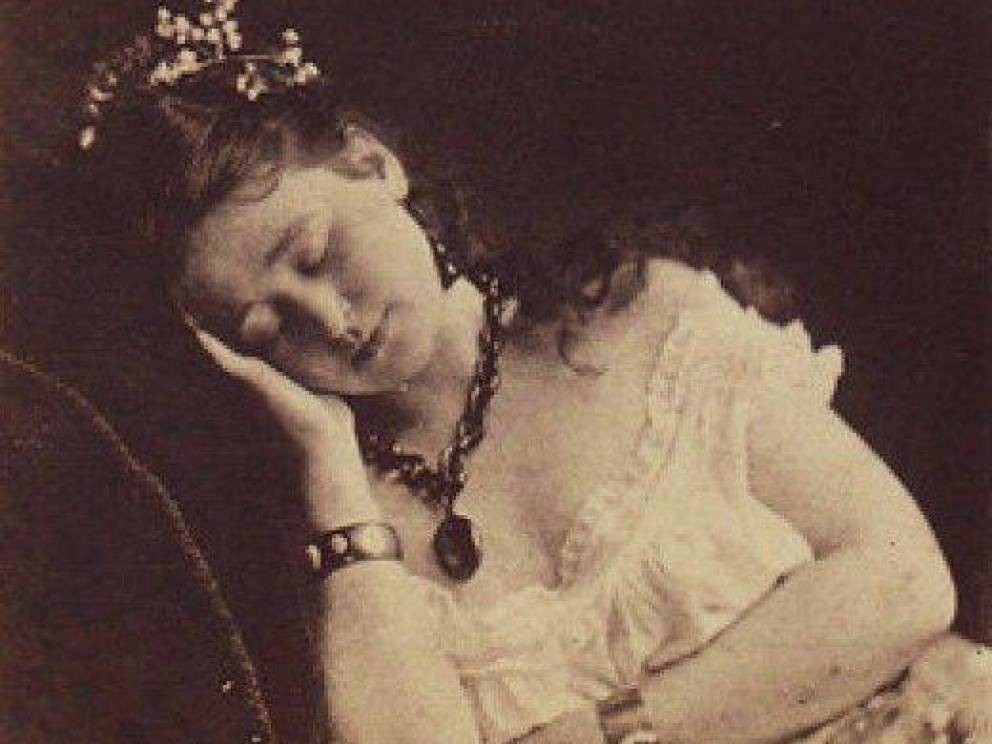 Do you see how creatively the photographer made the picture look like she's having her regular siesta or like a major headache that hurts like hell?
Even the dead are spooked out at what they're doing.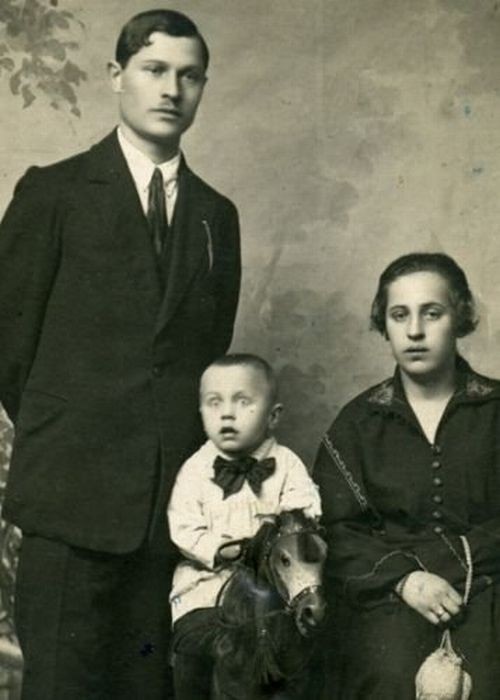 Everything seems the average normal with the picture, but the boy's eyes would be the definite give away. See how unnatural the look in his eyes are? Chances are they're painted so they look quite spooked out. Who wouldn't be?
Needless to say, this is quite a natural shot. No props, no eye paints but still as creepy.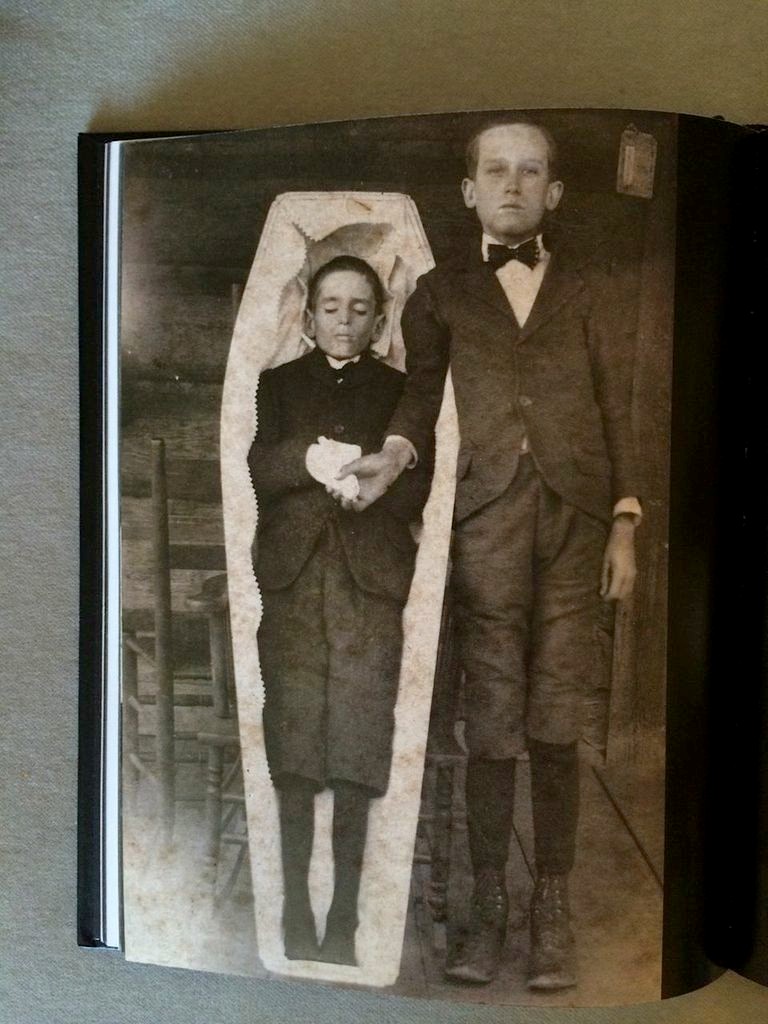 Taking pictures with a casket open wide like, standing right beside you would seem like a scene straight out from The Count Dracula movie.
Others don't really do much to alter the condition of the body, but they do still take pictures nonetheless.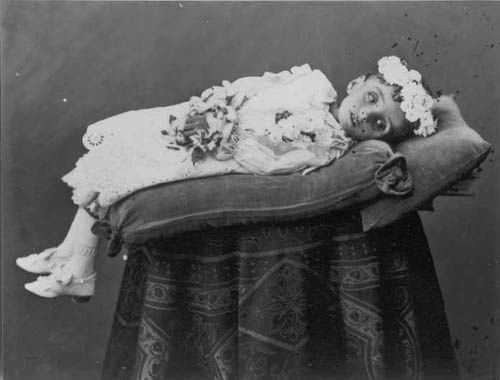 This young little one is photographed with very less alterations as compared to most of the pictures. They just wanted to freeze that moment in time.
Photoshop wasn't available that time, but we all know how crafty we can get to achieve our goals right?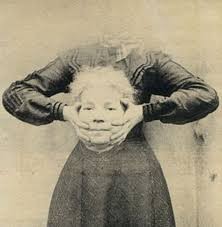 Headless pictures don't really seem to bother them back then too. Just imagine if Photoshop was already made available to them that time. Oh the things they would do!
But of course, they just wanted to have this one last memory of their loved ones.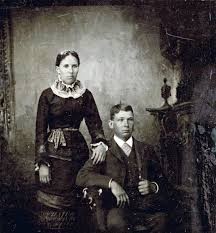 So even when the shots look quite scary and all that, they still go through it.
Like how sisters and brothers would come together for this one last portrait together.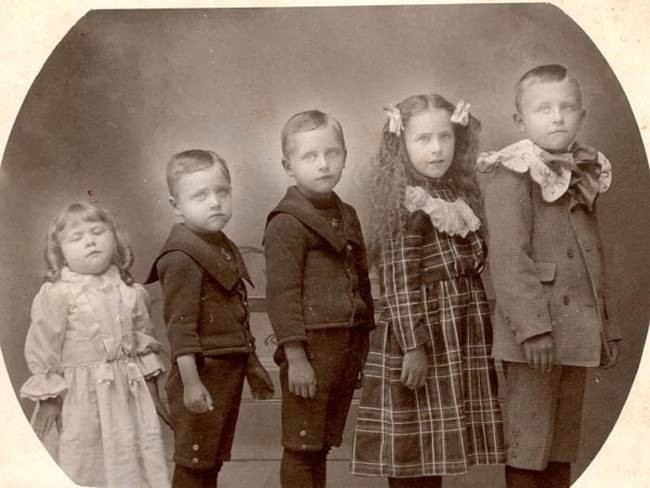 You can imagine how painful it is to lose someone you care for so dearly, and you just wanted to have that moment in time that you can capture and keep with you for the rest of your lives.
Or how a mother and a sibling grieve for the young and innocent child.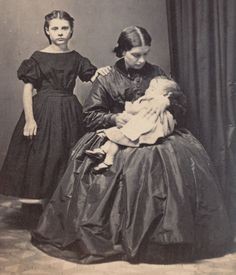 See how an elder sibling grieve for this young and innocent child that wasn't able to feel what's it's like to be alive.
But of course, regardless of that, these all seem very hard picture to take in. Would you dare shoot pictures like those above? Do you even have the guts to pose with someone #PostMortem style? Share your thoughts below! Let us know!