Bosch SHX55R55UC 500 24″ Stainless Steel Fully Integrated Dishwasher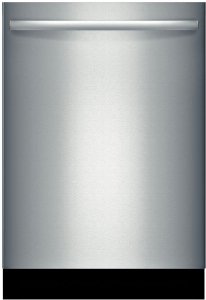 It's a dream of any modern homemaker to have a fully functional kitchen with all the modern conveniences and gadgets that make working in the kitchen and preparing food as fast and easy as possible. If you have a large family and you can afford it, a fully integrated dishwasher is a kitchen appliance that is right for you. After all that cooking, you definitely need help in cleaning up.
It is a tedious task to immerse your hands in water, washing all the dirty dishes, glassware and cutlery and spending additional time scrubbing dirty pans and pots thick with grease and dried up food particles. A fully integrated dishwasher will do the job for you; keep your dishes and all your kitchen utensils clean and sanitized and give you back the time you normally spend washing up to do other chores, help your children with their homework or basically relax after preparing dinner for the whole family.
The Bosch SHX55R55UC 500 24″ Stainless Steel Built-In Dishwasher is a dream come true. It is sleekly designed, with its stainless body giving your kitchen a splashy and modern look and its color blending well with the other kitchen appliances that you already have. It's not just looks though as this Bosch 500 series dishwasher has plenty of features, such as eliminating the need to pre-soak your dishes. It is also capable of scrubbing and polishing your dishes and utensils.
The SHX55R55UC is not overly large, which is a big plus. It is only 33 7/8 inches high, nearly 24 inches wide and about 23 inches deep. It can easily fit under your countertop. You have total control of the functions of this dishwasher. It's got a multifunction LED display which can show you the remaining time of the dishwashing process. A 19-hour delay function is a big help to schedule when you want the dishwasher to run.
The Bosch 500 series dishwasher is made to perform quietly, with only a 46-decibel rating. It has sanitize options, an EcoSense to reduce energy consumption and half-load cycle to save on water further.
Product Features
Design
The Bosch 500 series fully integrated dishwasher has real stainless steel fascia panel as well as stainless steel interior. Its LED multifunction board shows the remaining time in its display. It's got a wide handle for easy door opening. All of its function buttons are located on top of the dishwasher.
Dishwasher performance
The SHX55R55UC is the quietest dishwashing machine in its class, operating at only 46dBA. It is equipped with four wash cycles plus two additional options. The Sanitize option increases the drying results of the machine aside from eliminating bacteria. The dishwasher is also equipped with a proprietary InfoLight Beams that shine on the floor to let you know that the dishwasher is still running. Moreover it has a 19-hour delay function for your convenience, allowing you to schedule when you want to run the dishwasher. Likewise, it comes equipped with a registered AquaStop, a system to protect against leak.
Efficiency
One very convenient feature of the Bosch 500 series is that it is capable of running half load cycles if you only have a small load, thus giving you great savings in power and resources. It is one efficient and resource-saving machine, which could save you more than 280 gallons of water each year, even exceeding the Energy Star water requirement by 69%. It is Energy Star-compliant and only consumes 259kwh annually. Its registered EcoSense system further reduces by 20% the dishwasher's energy consumption.
Capacity
The Bosch 500 series has the capacity for a 14 place setting and an adjustable upper rack. The dishwasher had duo-flex silverware basket and 500 series racks. It is equipped with an extra-tall item sprinkler to clean items that are 22 inches high.
Specifications
This 500 series dishwasher from Bosch has a full stainless steel tub with concealed heating element. It has a five-level wash system and triple filtration system. It is NSF certified with a light indicator when the sanitation program is running. There are two upper rack cup shelves, a small upper rack for cutlery and a spray head for baking sheets.
Product Summary
The Bosch SHX55R55UC 24″ Stainless Steel Fully Integrated Dishwasher 500 series is an efficient dishwasher that not only gives a kitchen a modern and stylish look. It is a hardworking piece of kitchen appliance that keeps your dishes and utensils thoroughly cleaned and sanitized. It has so many built in cost-saving functions that make this dishwasher a favorite among consumers. It eliminates the need to soak scrub and polish the dishes as it does these functions itself.
The design is sleek and sturdy, with real stainless steel fascia panel and interior tub. It is small in size compared to other built-in dishwashers, saving on space. It is programmable for up to a 19-hour delay; performs very quietly, with the LED panel showing the remaining time for the dishwashing process. It has indicator lights to let the homeowner know that the sanitize function is running. Even with its whole complement of full dishwashing functions, the SHX55R55UC is a resources- and energy-saving machine.
Pros and Cons
Most owners praise the SHX55R55UC's design, its quiet performance, its simple controls, energy efficiency and its capability to clean the items well.
On the other hand, they complain about the awkwardness of loading items into the dishwasher, the long cycle for cleaning and the fact that the dishes are not dried that well.