Maytag MDC4809PAW JetClean Plus 24″ White Portable Full Console Dishwasher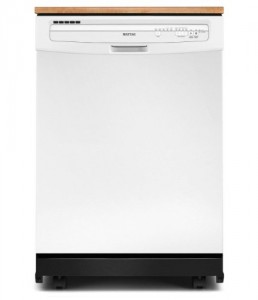 Maytag started out as a company manufacturing washing machines in 1893. Through the years the company continued to expand and added different household appliances including dishwashers.
An established company that has built a solid reputation through its long years of existence, its dishwashers, like its parent company, is backed by years of experience, technological advancement and manufacturing expertise.
The Maytag MDC4809PAW JetClean Plus 24″ is a high-end portable dishwasher that combines strength and flexibility. The dishwasher is Energy Star certified, with a motor that lasts twice as long as the average dishwashers. The best is that this is a portable dishwasher that you can store in any available space in your home and easily move it to your kitchen when needed.
This particular Maytag portable dishwasher model has a large capacity with its 10 place settings, suitable for a large household. It has five wash cycles. It does not occupy that much space. It is only 24 1/8 inches wide, 37 inches high and 26 ½ inches deep. The rack is made of durable vinyl, and its tub and interior finish made of strong plastic that can withstand interior heat.
Product Features
JetClean II Wash System
Maytag MDC4809PAW JetClean Plus 24″ has its own proprietary high-pressure wash system called the JetClean II. It consists of powerful spray jets that help in removing the toughest food particles that cling to dishes, pans and pots. Its filtration system catches the tiniest food particles and keeping them from getting into the wash cycle again. This system makes it possible to eliminate the need to pre-rinse your kitchen utensils. Bigger cleaning performance is achieved by its High Temperature Wash option.
4-Blade Stainless Steel Chopper
Another innovation in this Maytag portable dishwasher is the inclusion of a 4-blade chopper made of stainless steel. This is capable of pulverizing food particles, making them so tiny that they will not clog the spray jets and the machine's wash system.
Long-life motor
The motor of the Maytag MDC4809PAW JetClean Plus 24″ has been thoroughly tested and is guaranteed to last twice as long as the life expectancy of an average dishwasher, assuring you of additional savings.
Other features
The Maytag MDC4809PAW JetClean Plus 24″ Portable Full Console Dishwasher in white is also equipped with a tall tub that has an oversize capacity, making it very suitable for large families. A touch pad makes it convenient and easy to use the microprocessor controls. Its upper rack is tiered and all the racks are vinyl coated. Included is a removable single piece silverware basket. There are two spray arms and automatic rinse agent dispenser.
Product Summary
For a portable and compact dishwasher, the Maytag MDC4809PAW JetClean Plus 24″ Portable Full Console Dishwasher provides superior performance for its size. It has a large capacity that allows for more dishes and utensils to be cleaned at one go. The motor is dependable and guaranteed to outlast regular dishwashers. With its High Temperature Wash option and its JetClean II Wash System, you are assured that your dishes and other utensils will come out very clean and sanitized. It also comes with a one-hour dish washing option, a feature that benefits homemakers who are in a hurry, as well as a four-hour delay option. The dishes come out almost dry as well. Even its wooden countertop provides a dual purpose. It can double up as an extra counter when not in use. It is also NSF certified.
Pros and Cons
Users of the Maytag MDC4809PAW JetClean Plus 24″ Portable Full Console Dishwasher are satisfied with its sleek design, its clean lines, its energy and resources saving features and its overall powerful dish cleaning performance, topped with its bigger capacity.
There are a few things that are not satisfactory about this dishwasher. One is its price, which at $713 is quite high. The other factor is its noise, which is at 57 decibels.