Danby DDW1899BLS Built-In Stainless Steel Dishwasher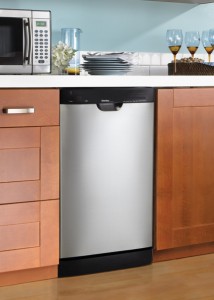 Most housekeepers want a dishwasher that will not occupy too much space in the kitchen but still has full functions for efficient, fast and energy-saving service to keep dishes and utensils thoroughly clean.
The Danby DDW1899BLS is a built-in 18-inch wide stainless steel dishwasher that is small enough to fit in a small space yet powerful enough to provide the best convenience and efficiency to washing dishes. It is budget-friendly. With a depth of 22 inches and a height of nearly 33 inches, it will conveniently fit in minimal space in an apartment or a condominium. The Danby DDW1899BLS is one of the best dishwashers suitable for dishwashing jobs on a small-scale, yet with the power and efficiency that budget-conscious consumers look for.
This very efficient, full-function stainless steel dishwasher is manufactured by Danby, an electrical appliance company based in Findlay, Ohio. The 66-year old company started as a family-owned manufacturer that began its business in 1947. The company has built a reputation for manufacturing high quality and competitively-priced small electrical appliances for the home, with their products meeting and often exceeding environmental standards for safety, with ETL, NRTL, CSA and UL certifications.
Product Features
Small size
Danby DDW1899BLS is a compact-sized stainless steel built-in dishwasher that is only 18 inches wide and 22 inches deep. It will fit snugly underneath your kitchen counter and with its neat stainless steel exterior will provide a decorative look to your row of under-the-counter kitchen cabinets. One of its main selling points is its capability to fit in a very small place within a moderately sized home. It has a capacity for an 8-place setting, that is enough to handle a medium size load of kitchen utensils and plates.
Water-saver
Savings is practically what all people particularly homemakers look for when buying appliances for the home. With Danby DDW1899BLS you not only save on cost for the appliance is reasonably priced, you save on space and water as well. Danby DDW1899BLS integrated dishwasher requires only a minimal amount of water. In some areas where water pressure is low or in an apartment complex where the water supply is not that abundant, this dishwasher is very ideal. With its low-water feature, the minimal amount of water required by the dishwasher will effectively clean dishes and utensils that have been used for one whole day.
Economical use of resources
It is not only water that Danby DDW1899BLS saves. The whole system is an all-around cost saver. The integrated dishwasher has an automatic detergent and rinse agent dispenser built into the appliance, distributing only a measured amount of the required cleansing agents to clean the dishes and utensils, giving the owner additional savings.
Other features
The Danby DDW1899BLS is Energy Star-rated. It has a built-in water softener that makes the dishwasher suitable for use in areas where hard water is present. Not only is its exterior made of stainless steel, its interior and its spray arm are also made of durable stainless steel. It has seven wash cycles and its electronic controls are simple and easy to understand.
Product Summary
Almost everything that you look for in a dishwasher you can find in the Danby DDW1899BLS. It is small and compact, its design in very sleek and contemporary. Furthermore, it is a very reliable piece of kitchen appliance. It is very economical, giving savings where it counts: water, cleaning agents and power consumption. It requires only the minimum of kitchen space and its design can add a contemporary and modern look to a kitchen. It is a well-built and durable kitchen appliance that is built to last.
Pros and Cons
Almost everything is positive about this small-sized but very up-to-the-task kitchen gadget. It can fit in a small space that is 18 inches wide, 22 inches deep and 33 inches high. It has a low-water requirement that makes dishwashing more economical and faster. Its built-in automatic detergent and rinsing agent dispensers do away with wasteful use of cleaning agents. Its stainless steel exterior and interior assure homeowners of many years of use.
The only thing that could be considered negative in the Danby DDW1899BLS is that it only has 8 place settings. Larger dishwashers have 12 place settings, but still, considering its size, the Danby DDW1899BLS is still a good choice.